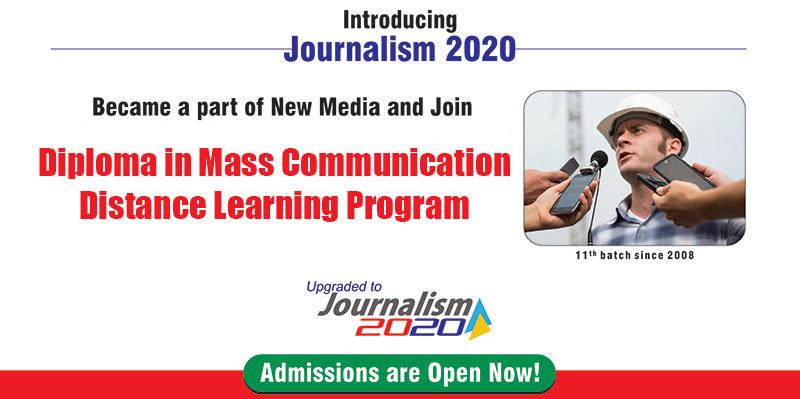 Course: MassCoMedia Distance Program
Duration: 6 Months. 2 Semesters. Online exam after each semesters.
Eligibility Criteria: 10+2 pass in any stream or Graduation appearing students are eligible to apply.

Broadly speaking student will be taught:

* Introduction to Television Production, Electronic & Digital Journalism

* Broadcast Journalism & writing for Mass-Media

* Print Journalism in Depth (Reporting & Editing)

* Extended Study of Media & Cyber Laws

* Project Work in Films, Documentary and Bulletin to build your portfolio


Objective:
This is an electronic media-specific program aimed at providing skills in TV production. The course lays stress on technical aspects of pre-production, production and the entire gamut of post-production work which encompasses voice-overs, music, vision mixing and packaging. The course will cover various aspects of camera, lighting, sound and editing. Students are taught the basics of graphics and compositing. It also entails the details on how to handle studio productions, switchroom operations, and work on advanced editing software.

The MassCoMedia USP:
The program offers a judicious mix of studio and outdoor shoots besides classroom teaching. MassCoMedia's advantage is industry standard studios, and editing tables. Watch what this course in all about.
Inshorts - What's media all about
---